McLeod Home Building Centre Named Finalist for Business of the Year

Spruce Grove & District Chamber of Commerce recognizes local business with its 2014 Chambers of Commerce Awards
McLeod Home Building Centre is pleased to announce that it has been named a finalist for the 2014 Business of the Year. Finalists were notified by the Spruce Grove & District Chamber of Commerce on September 16.
"This honour is a testament to the hard work our managers and staff do throughout the year to make our store a great place for our retail customers and contractors and to serve and support the community at large," says Wilson McLeod, owner and vice-president. "We want to thank the Spruce Grove & District Chamber of Commerce for this recognition."
Awards finalists will be featured and the winners will be announced during a special presentation at the 2014 Spruce Grove and Stony Plain Chambers of Commerce Awards event at the Marriott River Cree Resort on Saturday, October 18.
Established in 1916, McLeod Mercantile Ltd. is a fourth generation, family-owned hardware and building supply company and one of the longest-serving businesses in Spruce Grove. The company currently operates Spruce Grove Home Building Centre and Barrhead Home Building Centre in Barrhead, Alberta.
McLeod Home Building Centre is a previous recipient of the chamber's Business of the Year Award. In 2012, store manager Mel Toane was named Manager of the Year.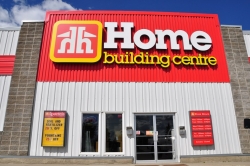 For more information:
Wilson McLeod, Vice-President Sales & Marketing, 780-962-2575

McLeod Home Building Centre www.mcleodhomehardware.ca

Spruce Grove & District Chamber of Commerce www.sprucegrovechamber.com

<! -------- Eof Page Content --------->