Great Ideas for all Seasons
An almost unknown resource of ideas that we do not promote enough is our quarterly Home at Home magazine.
Home at Home is only available through Home Hardware and is a great source of inspiration and information for life, food, gardening, do-it-yourself and home and cottage living. It features ideas, products and how-to articles from our roster of experts: Mark Cullen (Gardening), Bev Bell (Do-It-Yourself) and Anna Olson (Food).
When I recently picked up the Summer 2013 issue, I noticed a great idea and simple plan for an outdoor planter coffee table on casters. As someone who has experimented a bit with building basic furniture, I thought this was a project that anyone could tackle and it had a look and durability that most people would like for their backyards and lake cottages. I've attached a link to the instructions and plans below.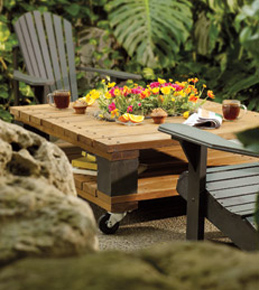 The subtle colour contrast makes this table a "natural" for any backyard. Shown here: Wood Shield Best Semi-Transparent Stain 1870-827 in Cinnamon Stick 2006 ST (table top) and Wood Shield Best Solid Stain in Inukshuk SC061 (legs)
Download instructions for Just Skidding Outdoor Table
Home at Home magazine is available in a paper format and just launched as an iPad App which gives you a choice of where and how you read it. If you would like to receive the traditional magazine version, come into our store and we'd be happy to sign you up -- the subscription's on us -- or send us your name and address through our "contact us" form on this website and mention that you would like to receive this publication. We'll pay for the subscription and have it sent to your residence.
In addition to articles on home repairs and maintenance projects, Home at Home gives you an inside look at some of the best new home products carried by Home Hardware. Because McLeod Home Building Centre specializes in building supplies, we don't always have room to stock everything that is showcased in Home at Home magazine, but with our excellent special order service, most products are only a week away.
Wouldn't Dad appreciate a nice DeWalt 18 Volt 1/2 inch Drill/Driver Kit to complete this project? Check out our current eFlyer for this and other great Father's Day gift ideas.
<! -------- Eof Page Content --------->